September 12, 2021. MEDITATION. While meditating in my apartment downstairs at Trinity House, I was overshadowed. I rose in consciousness into the head of my light-body force field, about a foot or two above my physical head, and prayed to Sananda for help with healing. Suddenly and unexpectedly, feeling as if I had been transported bodily into another dimension, I had the following crystal-clear vision: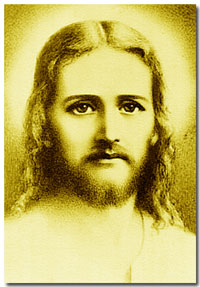 Upstairs at Trinity House, I looked out the window and saw myself sitting on a bench with Sananda, several hundred feet away. The bench was alongside our driveway, near the storeroom. I was seated to Sananda's left, and we were talking intimately with one another. Our heart-to-heart exchange certainly was one of disciple to master, but also one that brothers would share. Sananda appeared as one might imagine him in his aspect as Christ Jesus, with long hair and a beard, and wearing a white robe.
Then, in a swoosh, the real-time vision ended and I became aware again of my physical surroundings downstairs, where I sat in my recliner. I returned to conscious awareness with a deep, newfound sense of peace. The Master is aware of my plea and is helping me. All is well.
The remarkable vision, a clear opening into another dimension, had lasted only a few seconds, yet it seemed timeless and affected me profoundly. I gave abundant thanks to Spirit and to Sananda for healing assistance.
Photo: Sananda/Jesus, Mark-Age Archives.