Channeled via Phillel on April 14, 2014

REBEKAH OF VENUS: Greetings to our teammates on Earth. I am Rebekah of Venus. Dr. Hannibal has designated me as spokeswoman at this time due to the close relationship that I have with this soul under Motah capacity, and because I can thereby provide a pathway for the reintegration and resynchronization of these force fields during these downloads of hieronic impact.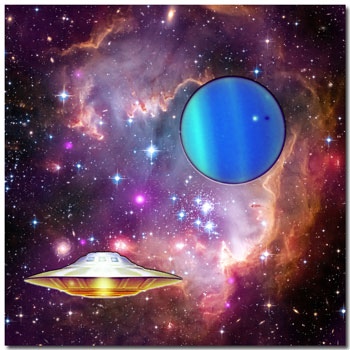 I am aboard Conrad's etheric ship that monitors this headquarters. Conrad also would have desired that I speak for him and his team to reveal that Dr. Hannibal has provided Conrad with reinforcements for this special download of light during the Easter week and beyond.

You have been projected aboard this craft in order to meet one of these commanders, who is known unto you from the past association under name Alanar of Uranus. He provides reinforcements for Conrad at this enhanced time, to bring through resurrection on planet Earth through this I Am Nation headquarters force field.

We have established these ships, that have been allocated for this command under temporary status, in a circular perimeter of this force field. We have instigated what you might term a laserlike grid of light to secure your protection from all forces other than the most high — from celestial, etheric, and some of the upper astral levels — to penetrate into this grid at this time as we reassimilate you with these higher impulses of light. In this effort, Golden Eagle also has provided services to resecure this perimeter. [1]

It is not easy to introduce you to relatively new experiences in this incarnation. But we do so knowing that you will seek your confirmations in your standard methods of action as light workers on the physical plane, being accelerated now into higher fourth dimensional understandings and expressions.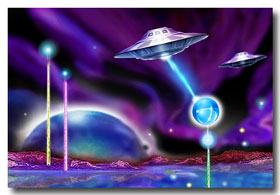 We have blasted this force field with a violet ray of Sixth Ray enhancement in order to provide this protection and to sweep this area entirely clean so that the higher impulses that we now bring through shall be fully integrated in their purest form during this Easter week.

Allow me to speak also on behalf of the Hierarchal Board, who of course in their own ways are in attendance at this session at I Am Nation headquarters. We congratulate this team and all those light workers who are associated with these participations in the recent Mission to India and the Far East. You know who you are. Therefore, we beseech you to continue to work with the reintegration of all that we have been able to accomplish from these higher spheres during these recent weeks. It has all been timed precisely so that we may amplify what is needed within mass consciousness worldwide — East and West, North and South — during this cycle of resurrection and renewal. So we see it, and so it is.

Ashtar Gabriel also is participating with special hieronic input from master ship #10, under Sananda's command. [2] For all is being woven according to the Master's plan for planet Earth, and it is he whom we serve in all of these various dimensional and vibrational capacities.

So, dear friends, fellow coworkers, students of the light, be one with us, for we are one with you. And we have arrived. [3] So be it. Rebekah of Venus, over and out.

DR. HANNIBAL: This is Dr. Hannibal. I am in observance of these introductions and have allocated my resources accordingly. I want to assure this I Am Nation team that all is in order, and all is proceeding according to what the Master has deemed essential at this time in order to bring through a new evolvement of third dimensional man as he moves quickly into fourth dimensional consciousness.

Thus it is grounded through this foursquare team on Earth at I Am Nation headquarters. So be it. Dr. Hannibal, standing by. Alert yourselves to our commands as given in due course of events. So be it. Hannibal, over and out.

Note: The evening before, Robert and MariLyn had returned from the Mission to India. The four of us, including Larry Peterson and myself, meditated together at 11 a.m. in order to begin grounding the post-mission energy transfer at I Am Nation headquarters. Dr. Robert reported that in a meditation this morning Sananda had signaled this procedure.

A few minutes before we gathered for meditation at Trinity House, Conrad contacted me with a hieronic beam, activating my heart chakra. I became alert to what might transpire. As soon as we began, Conrad beamed me again. I was guided to join in a visualization to sweep headquarters with the violet flame, in order to purify the force field and to secure the necessary protection for the hieronic energy download.

Conrad relayed telepathically that Dr. Hannibal had sent him reinforcements, in the form of other extraterrestrials who would assist him with the transfers. I had a vision of a ring of glistening silver scout craft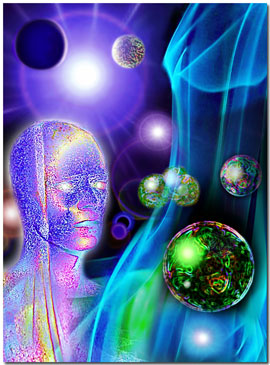 hovering above our property. They encased our vibrational field in an impenetrable geometric grid of white light.

For some time afterward, I experienced an infusion of hieronics, which accelerated my chakra centers and resynchronized my vibrational frequencies. In my light body, I was projected aboard Conrad's etheric monitoring craft. He introduced me to a team of extraterrestrials, particularly one spaceship commander. To my clairvoyant sight, all of them appeared to be about seven feet tall. The name of the commander was Alanar (pronounced Ah-lah-nahr). The letters of his name were emblazoned on my third eye.

While I pondered the new contact, Alanar himself suddenly overshadowed me, jolting my auric field. His unique vibration was entirely new to my experience. To my clairvoyant vision, his transfiguration appeared as a striking pattern of iridescent light. Mentally discounting the planetary vibrations more common to my experience, I finally realized, with astonishment, that Alanar was Uranian. He was my first space contact, identified by name, from the planet Uranus. In my current lifetime, I've only experienced the Uranian vibration a few times. Nonetheless, in my soul training with the Motah Council, I am familiar with the various dimensions of this planet that radiates the Fifth Ray in our solar system.

Alanar revved up my chakra system considerably. At first I thought he might channel vocally. But after a few minutes, he receded. The purpose of his direct transfiguration was to synchronize our different body vibrations on a compatible wavelength.

Again I felt the presence of Conrad, who tweaked my force field further. Rebekah of Venus was with him. She overshadowed me and raised my hands to transfer energy to the group. Then she quickly accelerated my chakras, including my throat and heart, in preparation for a vocal channeling. She relayed telepathically that she would speak. She would help me and the group incorporate the energies, especially in light of the new vibrational contact with Alanar of Uranus.

After Rebekah finished her message, Dr. Hannibal channeled, adding his own imprimatur as my master teacher.

The hieronic contacts greatly affected me. Afterwards, I felt discombobulated, dizzy, out of sync with the physical, third dimension. Yet, I was grateful for the unexpected introduction to a new space brother. To help ground myself, I took puppy Shasta for a walk around the property.

____________________

[1] Golden Eagle, a higher astral chief in our area, would help lock out lower astral influences.

[2] Ashtar Gabriel, a Jupiterian, is the command pilot of Sananda's ship #10, the Star of Bethlehem.

[3] This statement alludes to my astounding dream of March 31, 2014, in which an entire fleet of extraterrestrial spacecraft had arrived on Earth. Rebekah implies that the dream foreshadowed my new contact with Alanar of Uranus. In essence, I was given confirmation in advance. To quote Rebekah: "You will seek your confirmations in your standard methods of action."

Photos: (1) Collage by author. Images of Uranus and star cluster in Small Magellanic Cloud courtesy of NASA Archives; image of Gold Light Ship © by Hartmut Jager. (2) Hieronic Projections © by Hartmut Jager. (3) Dimensions © by Hartmut Jager.