Channeled via Phillel on November 24, 2011

DR. HANNIBAL: Greetings to the reintegrated triangulated team. This is Dr. Hannibal, commander of Western Hemisphere coordination craft #1235, on beam-enhanced telepathic relay to Motah outpost. My crew and I are in temporary orbital station many miles above your I Am Nation headquarters. We have begun our hieronic knitting procedures, bringing into focus our electromagnetic encapsulations of energies
and thought patterns we have coalesced from the successful travels of the Healing Haven team into and out of South America.* We have our formulations in hand, repatterned for higher synthesis of unification principles within this Western Hemisphere.

Having accomplished our designs for the magnetic polarity shift at the previously designated hinge point of Panama in past days, we begin now our implantation of light into the North American thought realms.** Our hieronic download through this headquarters focus will proceed at least over the next four days.

The mass cultural thought patterns programed for unification, integration, synthesis and healing — all Fifth Ray attributes — are being put into the mix for blending and for reinforcing the stable exchange from the southern continent to the northern continent, and vice versa. I give the channel a common analogy that will allow the light brigade to lock onto our etheric actions in this regard. You have in your modern civilization a substance commonly referred to as Velcro. This material consists of two separate components, each designed for operation with the other; only when applied each to the other will secure adherence result.

Consider the mass thought forms of South America to be one side or component of this adhering strip; those of North American cultures form the other. Through our hieronic bonding actions, we are pressing the two together to form a solid unit, thus allowing a new integration of the higher thought substances of Christ action within the entire Western Hemisphere. The two polarities, as it were, combine or stick together to produce an atomic attraction of thought particles that cannot be broken apart, but must constantly reinforce the positive-negative bond. This represents the solidification of the Western Hemisphere within its own positive-polarity purpose for new actions of unification that now will be possible with the Eastern Hemisphere, representing the receptive-soul polarity; otherwise termed as female-negative scientific principles, in this bonding.

As stated, we expect this knitting action to be fully cemented — or cured, to apply another image for your contemplation — during the next four days or more. We use the number four as a symbol also for the manifestation of these results on your physical plane.

Our bonding will be coordinated through this I Am Nation headquarters focus, but equally spread from there throughout our hieronic network of ships on standby for wide dissemination throughout the Northern Hemisphere, through grounding actions of our light brigades on Earth and astral planes who are avidly participating in the anchoring of these thought forms. This implantation is further stabilized by receptive nodes of light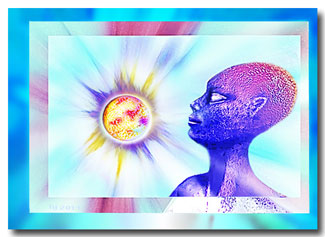 workers and groups embedded far and wide in South America, holding their higher ground of recently achieved battlefield actions during the just-completed South America Mission.

Krator, my lieutenant from among Martian hieronic operators and assistants, who has ably served as a recent contact with this unit on reconnaissance mission, continues to monitor the results of the present download and braiding of these higher plane energies. He has returned to my hieronic sister ship #1236 for this assignment. From scout ships attached to that craft, he and my able crew will gather results from all sectors. These are being fed into my coordination craft #1235, now in the etheric above this headquarters location.

Once I determine the needs of all these particular unfoldments, I can make my next move. My maneuvers and assignments, of course, are under the master plan of Sananda, who oversees the entire Second Coming program — and all East-West unification actions — from his master ship #10 in etheric planetary orbit.

Your job, those of you of our light brigades on astral and physical planes, is to secure this grounding of light in the coming days. Remain receptive to our inner plane infiltrations, and all will proceed smoothly as planned. Through the bonding of energies engaged during the South America Mission, we truly will have fastened our sights on a much-strengthened polarity balance within the Western Hemisphere, which will help steady the massive reactions inbred within the East as new cleansings and changes now surface.

Hold in Christ balance and steadiness all on Earth, for the entire planet is undergoing dramatic change for a new birth of cosmic awareness in this Second Coming program. Our actions now, actively engaged as an interdimensional team, are setting the matrix or holistic force field for the incorporation of higher influxes of light during the season of the Christ Mass, now beginning with this pronouncement of truth, light, synthesis, and unified love in action.

Hail to the Christ in thee, each one who has remained true to these master designs. By our South America Mission we have set the stage with new parameters for Christ demonstration on Earth. To the I Am within you now return, taking upon you the golden mantle of the sons of God, forever united for the upliftment of Earth and all life upon it into the Golden Age.

With blessings to our triangulated team at I Am Nation headquarters and to all my light brigades in service to Sananda's return as Christ Jesus of Nazareth, I am your humble servant and brother, Dr. Hannibal. Over and out for now.

MARY: This is Mary, Sol-O-Man of the wise dominion, echoing Dr. Hannibal's blessing to our beloved troops. Keep your vigil, with me, for the birth of the Christ on Earth. I stand before you, the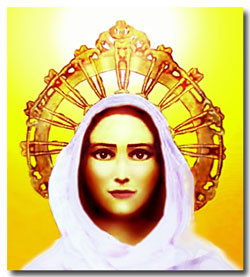 virginal vessel clothed with the Son's light, staying true to purpose as a herald for the Second Coming. Beloved ones, we travel together into the fourth dimension as we anchor a new heaven on a new Earth. To all consigned to my holy care, I speak the word of truth when I say, "Well done, faithful servants of the Christ!"

I am Mary, known to many as Mother of the Americas, but in truthful symbol I am a mother who embraces all children of God on Earth from these realms of etheria. So be it according to God's holy command and blessing. Amen.

Note: Last night, after I got in bed, Dr. Hannibal overshadowed me briefly, relaying that he had stationed his mother ship overhead, as planned, and would begin the hieronic download procedures. He was not ready to specify the details at that moment, but I should stand by.

This morning, before 10 o'clock, I sat in meditation. Within the half hour, Hannibal contacted me with a hieronic beam on my crown chakra, which also clamped my solar plexus as if in a magnetic vice grip. The commander said he was ready to communicate. The dictation started at 10:30 a.m. and finished at 11:57 a.m. Afterwards, from the effects of the space beam, I was mildly dizzy for about a half hour. Crown chakra activation continued later in the afternoon.
____________________

* The previous day, November 23rd, Dr. Robert and MariLyn had returned from the South America Mission, via Panama.
** See communication of November 20, 2011, "Mother Ship on the Move."
Photos: (1) 3 UFOs and Dimensions © by Hartmut Jager. (2) Sinue © by Hartmut Jager. (3) Mary the Golden One © by Hartmut Jager.