February 25, 2019. DREAM. In a conference with the staff, Nada-Yolanda announced that she had written a script entitled "Unity and Balance," and she wanted someone to broadcast it for our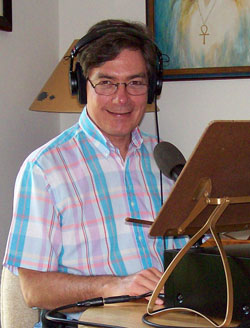 meditation network. I immediately volunteered. While setting up the tape-recording equipment I decided that, after broadcasting Yolanda's message on Side A, I would tune in to my I Am Self for inspiration and extemporize on the same theme on Side B.
Interpretation: Following my dream of February 17th regarding publishing the "I Am Intunements" series of broadcasts, this dream again shows the close coordination I have with Nada on the etheric planes. She gives me a theme for the upcoming Easter cycle: project unity and balance, first within my own consciousness and thought patterns, then to the light workers, and ultimately to all in mass consciousness.
Photo: Phillel, broadcasting in 2008, Mark-Age Archives.