Channeled via Phillel on Ash Wednesday, February 17, 2010

HANNIBAL-SUMMALT: Hannibal-Summalt, combined hieronic space command. Expect forthwith a quickening. With laserlike, pinpoint accuracy, we have identified those light workers with whom we may work in this initial bombardment of light into your realm, beginning with this broadcast.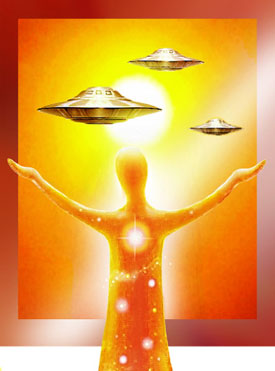 You would be well-advised to steady your focus on the higher encapsulated thought patterns which we intend to bring into a further incorporation by these presents; presents, as in gifts of the Spirit to ignite this planetary conglomeration, in order to raise mass consciousness in the ensuing months.
Troubles abound through the many byways of mortal consciousness as expressed in your third dimensional plane. This quickening decidedly will stir things up. That you know and can be sure of. But those of you who have prepared for these higher bombardments of light need not have concern as long as you are within the protected framework of your light-body consciousness. In this consciousness may be found the ultimate peace which you can give unto your fellowman. By your demonstration, they too will begin to reap the benefits of this energy exchange.
Be not surprised at what shall be forthcoming. For this you have incarnated into this realm. For this you have prepared for many lifetimes. For this you have been expectant for many years. What else can we say? The Second Coming program has schedules to meet, if we are to operate within the time frame we intune from those not only of the Hierarchal Board of this solar system, and those in attendance through the various planetary departments and realms, but as brought to our attention even from higher galactic sources.
Thus, the solar system moves forward in this copartnership between dimensions. Your efforts are greatly needed, and will be enhanced, in this partnership. Therefore, be glad in these glad tidings. They come from the ultimate projection of power and authority from Sananda himself, whom we all serve. As you ascend into the light of your Christ being, he rapidly is descending to bring about the manifestation of his light-body form in the right time, in the right places throughout this planetary environment, in those years ahead when given release from Spirit Itself.
Be in the now in your actions in this regard, because it is only by your present incorporation of this light from within your being that all may be raised and be presented with this Aquarian event to come. So, do not trouble yourselves; for sufficient unto the day are those actions of love you must perform, one step building upon another.
In our combined hieronic command as Hannibal and Summalt, we are here in force to amplify these Christ embodiments through the one hundred and forty-four thousand: symbolic, literal, and hopefully many, many more in the days ahead.*
We are your elder brothers and sisters. Welcome us into your heart, be clarified within your mind, be open within the purity of your soul, and let these presents be gifted unto you from the I Am.
So let it now be engaged, with this quickening. Hannibal-Summalt, West and East, combined etheric space command, over and out.
KATOOMI/LORD MICHAEL: I am Katoomi/Lord Michael, co-titular head of the Hierarchal Board. I overshadow and encompass and envelop all within my realm of this solar system for these new actions now engaged. You have upon you the protection of the First Ray of Divine Will and Power through Lord Michael, bequeathed also unto Chohan El Morya, and through all those workers under his benevolent supervision who can aid in this protection of our I Am Nation team on Earth.
Be assured of our respect for your Christ functions, as you assure yourselves in respect of ours. For in this light of Spirit, the Almighty Presence, we are one. Now go, my children of light, and be love in action, with harmony in your hearts, with acuity in your mental functions, and with solid grounding of light through your physical form. Om.
URIEL: Uriel, light of God, Archangel of the Seventh Ray. I come only briefly to back up what our beloved Michael has bequeathed unto you for this initial start of our projections. I am in attendance with all my children on Earth whom I help raise into light-body beingness. So, as you ground these energies, look to me also for guidance, comfort, inspiration, proper enthusiasm to follow the will of God and express love, light, life within you. Uriel. Amen.
___________________
* one hundred and forty-four thousand: the elect, the demonstrators and the teachers of Christ powers during the Latter Days. The number is literal, in that at least that number must so demonstrate to achieve the spiritual goal of lifting man into the fourth dimension, and symbolic, in that it does not preclude any number of additional ones from being included. (See The 144,000 Elect.)

Photo: A Golden Welcome © by Hartmut Jager.
LISTEN TO PODCAST: Click on the "Play" button below to listen to the above communication, as recorded live on 2/17/10. This recording was released on I Am Network of Light tape #988A, for the week of 3/28/10.