April 24, 2011. Easter Sunday. MEDITATION. While I was under contact from a hieronic beam, my light body overshadowed me, encompassing me in a white sphere of light. I was led to focus my energy projections primarily on the 144,000 elect, the light workers who act as the "leaven in the loaf" to raise mass consciousness into Christ awareness.
The term ratchet gear was introduced in my mind.* As I pondered its meaning, I received the following: The Hierarchy's energy transmissions over the past couple of months have, with this Easter meditation, locked the 144,000 into a new increment of light-body resurrection. The gearwheel, so to speak, has been turned forward and locked at the next higher notch.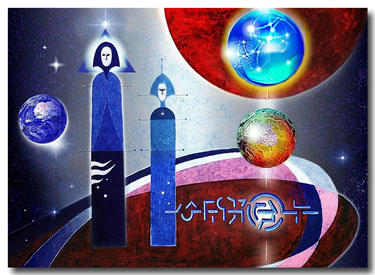 The ascended masters now will see how well the 144,000 light bearers can acclimate or stabilize themselves at the new level, without slipping back to the previous notch. Can the locking mechanism hold securely under increased pressures to anchor yet higher transmissions of light? There is no guarantee, of course, but the Hierarchy is satisfied with this current achievement.
Once the new energy lock has been insured within the 144,000 elect, further light-body demonstrations will unfold, greater light will flow through, during the rest of the spring cycle. In turn, the higher demonstrations and energy broadcasts through this core representative group of Christ servers will spread throughout the masses, sparking an incremental rise in consciousness and vibratory rate for all on Earth. So be it.
____________________

* ratchet: "a mechanism that consists of a bar or wheel having inclined teeth into which a pawl drops so that motion can be imparted to the wheel or bar, governed, or prevented and that is used in a hand tool (as a wrench or screwdriver) to allow effective motion in one direction only."

Photo: Guardians 2 © by Hartmut Jager.